Open winch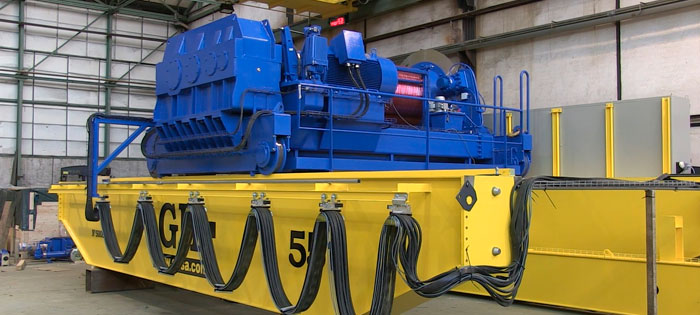 These type of crabs are produced on demand to address special needs such process cranes with special features of capacity, safety, speed or other requirements.
It is called Open Winch due to all the elements are manufactured with independent and different sub-assemblies for easy maintenance.
Standard open winch large range from 6.3T to 400T.
AN OPEN WINCH TYPE LIFTING HAS THE FOLLOWING ADVANTAGES:
Increased lifting capacity and / or higher lifting speeds and / or higher FEM working groups.
Use of commercial motors to fit customer"s standard. Possibility to use only 1 motor instead of 2 motors, thus halving the probability of having a break-down. Possibility of engines of 1,500 and 1,000 rpm. Increased motor size.
connections between motor and gearbox, and between gearbox and drum, are done with

elastic couplings

.
True vertical lift as standard, thus avoiding lateral displacement of the hook during the lifting movement.
Greater accessibility for maintenance of the different components.
The brake is fully exterior, improving accessibility and regulation.
The gearbox has a top opening lid, providing easy access for maintenance and inspection.
Slack wire rope detector. Mechanical system to assure correct placement of wire rope in drum grooves and keeping only 1 layer.